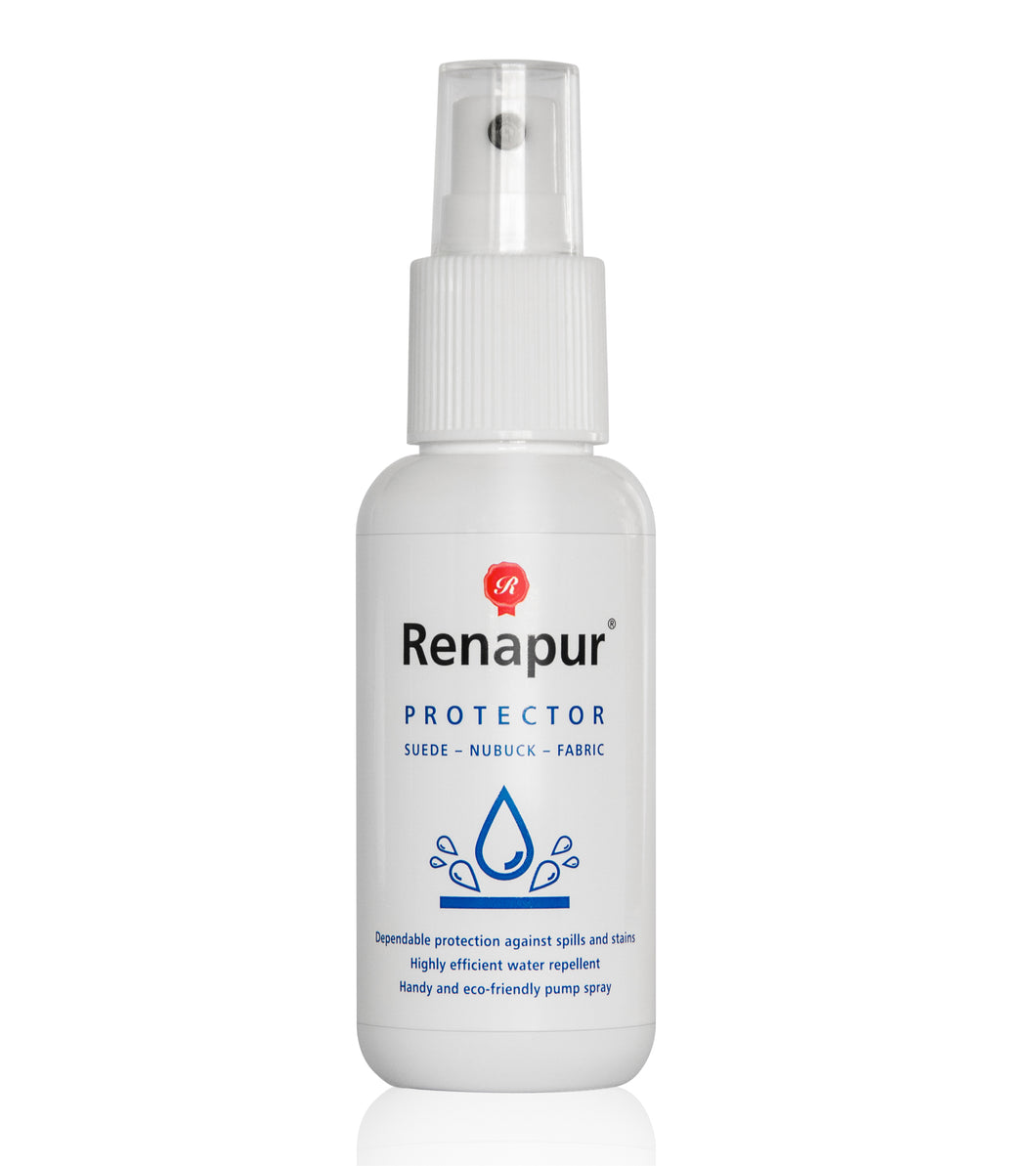 Renapur Suede, Nubuck & Fabric Protector
Regular price £9.99 £9.99
This eco-friendly advanced spray solution protects suede, nubuck, sheepskin, canvas, fabrics and many other absorbent materials from liquids, mud, oil and stains – but itself stays invisible. Does not affect the visual appearance, feel, texture or colour of the treated item and is easy to use and long lasting.
Renapur protector is the safest and most effective protector spray available – free of harming solvents, aerosols or any other aggressive substances. It can even be used for the treatment of baby clothing according to OEKO-TEX® standard.
It is odourless, non-flammable and has no noxious vapours so can be safely used indoors.
Safe for humans and the environment. So many protectors on the market incorporate noxious chemicals and are extremely flammable. Just read the warnings on their labels. Renapur Protector's advanced technology is completely non-toxic but super effective.
Renapur Protector is next-generation technology that invisibly coats fabric and fibres. This barrier repels water, alcohol, wine and other liquids as well as mud, grease and oil. Any spill residues are easily washed off with water.
UV resistant which reduces fading.
Maintains breathability
Easy to apply
One 100ml bottle will typically treat 4 pairs of shoes. Depending on fabric type and size of shoe.
Good for suede, nubuck leather, fully aniline leather and fabric on items like:
Shoes and boots.
Trainers
Sheepskin
Clothing, including jackets and coats.
Hats, caps and gloves.
Handbags and purses
Textiles
 Not for use on:
Closed grain or Pull-up leather.
Items already treated to be waterproof or water resistant.
Items that are not absorbent.
TIP: Orca Bay always provide a keyring with their shoes, which you can use as a test swatch.
What to do:
1. Ensure the surface is clean and free of dust, dirt, grease or any cleaner residue.
2. Spray evenly over the surface until the surface is quite damp. Allow to dry.
3. Dries in 24 hours. Drying can be accelerated by use of a hair dryer. Only one application required.
Typically this protection lasts up to two years but a hard worn pair of shoes for example might need to be re-treated after one year.
Washability: Renapur Protector is resistant against cleaning agents and very robust against abrasion during the washing process in washing machines. To retain the longest possible protection it is best to hand wash.