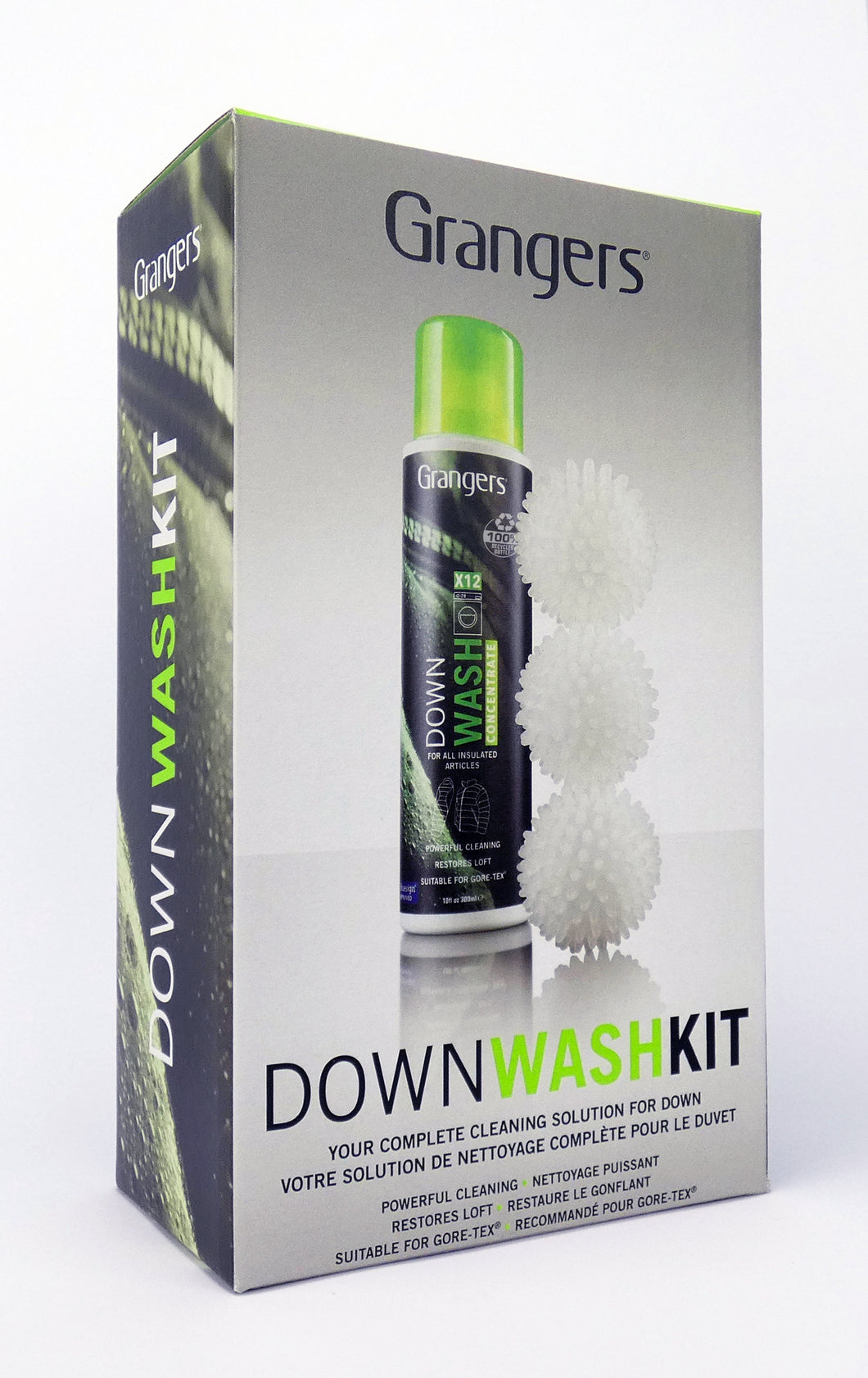 Grangers Down Wash Kit
Regular price $13.00 $13.00
Take away the fear of washing insulated items with this easy-to-use all-in-one kit.
Containing Grangers new concentrated Down Wash, this eco kit contains all you need to restore the appearance of your down articles so they perform as they should and continue to keep you warm and dry.

Washing a down jacket is just as essential as any other piece of kit. Over time, dust, sweat and oils build up, restricting the garment's ability to breathe and the down insulation will lose its loft, resulting in a jacket that no longer keeps you warm or dry. So why not try this all-in-one solution today so you can stay warm outdoors for longer.
Powerful cleaning for down and synthetic down
Removes dirt
Restores loft
Reduces drying times
Neutralises odours
Revitalises any existing water-repellency
100% Recycled bottle
Bluesign® approved
PFC-free
300ml
This kit contains:
Grangers Down Wash, a powerful, yet bluesign® approved cleaner formulated to remove dirt and oils and restore loft without damaging or inhibiting insulation or hydrophobic properties in the way that normal detergents do. This breathable formulation is compatible with Gore-Tex and keeps Down fresh and performing as it should for longer.
Three reusable dryer balls (up to 1000 loads) to prevent down clumping and and improve drying efficiency.
How to Use:
Whether washing in hard or soft water, simply use 1/2 capful (25ml) per wash load.
Pour product directly into the washing machine drawer, in place of normal detergent.
Wash according to care label instructions.
Dry down articles as per care label instructions, using dryer balls.*
Once washed, check down is evenly distributed, tumble dry, if possible, on a low heat and add dryer balls and periodically check throughout drying cycle.
Once completely dry, you're good to go!
*All insulated articles dry at different rates. To ensure loft is fully restored, we recommend periodically checking your article throughout the drying process, gently separating any clumps that may have formed in the down.